Back
Toasted Fine Cut Nori Seaweed Clearspring
V
£2.67
Known as kizami nori in Japan, fine cut nori is a versatile condiment to use in a wide range of dishes.
Clearspring Fine Cut Nori is made from the finest toasted nori sheets. Made by the same producer as the sushi nori sheets, it has a delicious nutty flavour and dark, shiny green colour. It makes a perfect garnish for anything from rice to noodles, pasta or salad. Simply sprinkle it on just before serving as no preparation is required.
In Japan it is often used for chilled soba noodles or mixed with other ingredients such as sesame to make a delicious condiment (furikake).
Producing Clearspring Nori
Clearspring Nori sea vegetable is farmed and produced using traditional methods in Kyushu, Japan. While some varieties of sea vegetables such as hijiki, arame and dulse are harvested from the wild using sustainable practices, others such as nori are extensively cultivated in Japan and other East Asian countries.
Although originally gathered wild, nori has been cultivated in Japan for over 300 years. Nets made of woven rope impregnated with nori spores are suspended each year between long bamboo poles set deep into the calm, shallow bays. The height of each net is carefully set so that it remains above the water level during low tide, giving the growing nori maximum sunlight, but below the water level, so the plants receive a regular washing, at high tide.
During the colder months, the delicate nori plants will grow until they cover the entire net. In late winter they are harvested and brought ashore, where they are washed, cut, made into thin sheets and dried.
For ingredients and allergens, see product information below.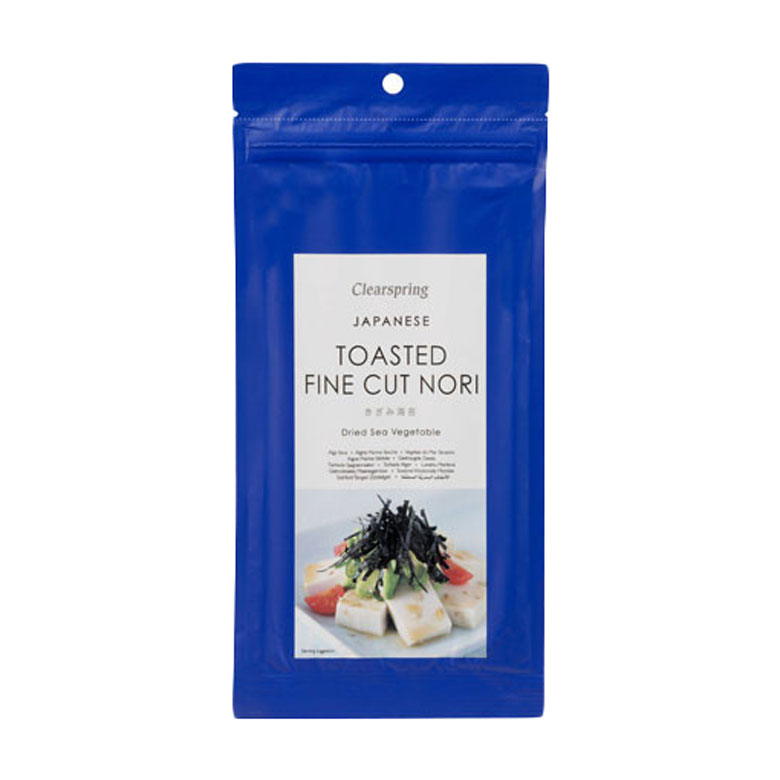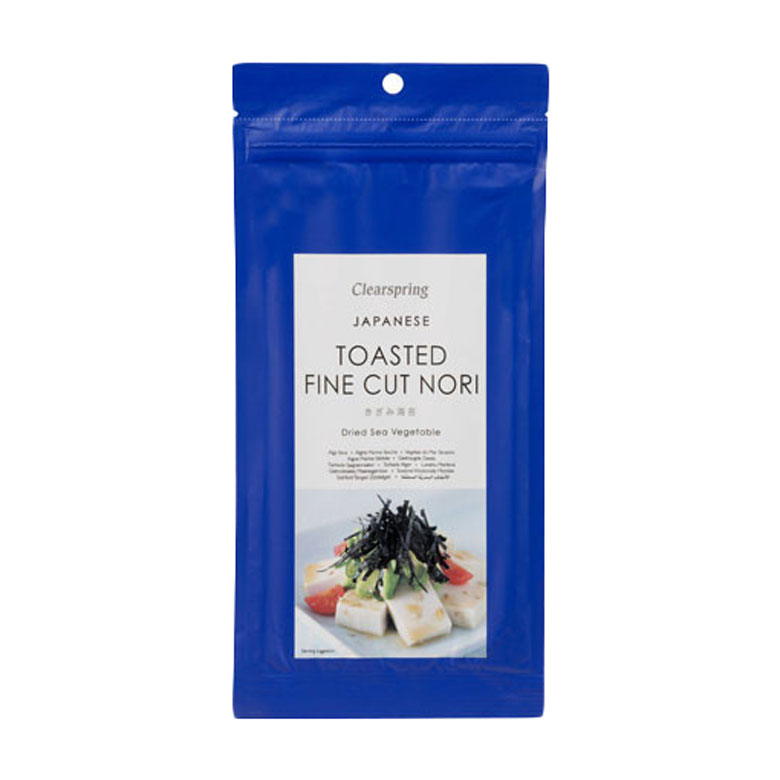 What's in this collection
Product information
Ingredients list
Dried and toasted Nori Sea Vegetable (Pyropia yezoensis).

Storage details
Store in a cool, dry, place
Use instructions
Toasted Fine Cut Nori is a delicious, shiny and beautiful garnish that will enhance the flavour and look of your savoury dishes. Try it sprinkled over your pasta, noodles, rice, tofu, vegetables, soups and salads. Add just before serving.
Using Product and Allergen information
Product information is provided here as part of our effort to give you the best possible online shopping experience. We take great care in preparing this information and checking it with the producer. However, the information provided here is not intended to be a substitute for reading the product's actual labelling once you receive it. Whilst we continually aim to update the information with the very latest data provided by producers, there may be some cases where it is subject to change. Equilibrium Markets is unable to accept liability for any incorrect information provided. Your statutory rights are not affected. If you require more product information than appears here, please contact the producer directly.