Back
V
£15.41
Quest Mega B 100 is a high potency timed released formula providing a full spectrum of the B vitamins. This supplement is used by individuals seeking healthy energy levels, nervous system and psychological function. Vitamins B1, B2, niacin (B3), B6, pantothenic acid (B5) and vitamin C can play an important role in tackling tiredness and fatigue.
Thiamin (B1), Riboflavin (B2), Niacin (B3), Vitamin B6, Folacin (Folic Acid), Vitamin B12, Biotin, Pantothenic Acid, Choline Bitartrate, Inositol, PABA
* please note, image depicts the 30 tablet bottle
For ingredients and allergens, see product information below.
Country of origin: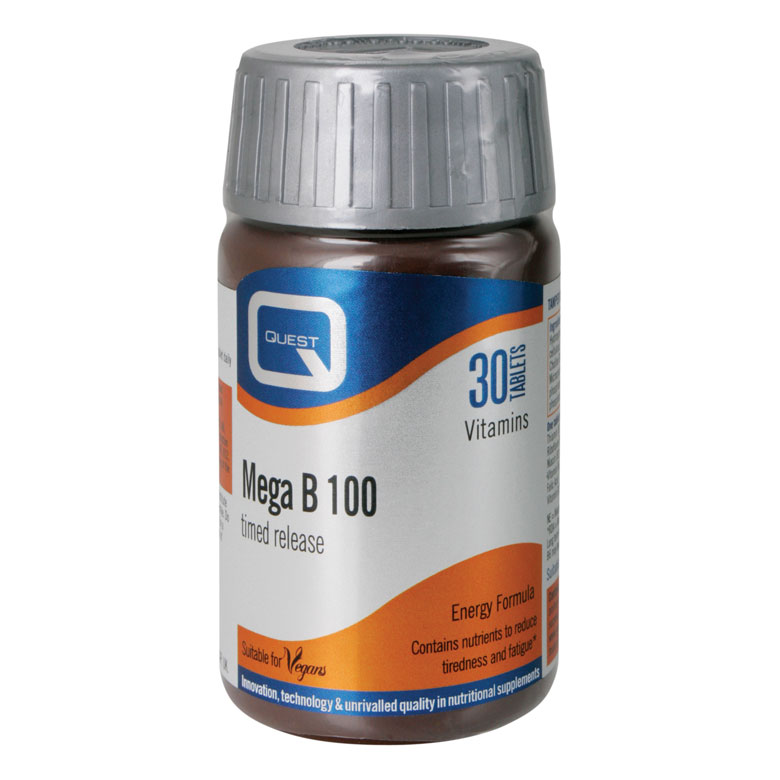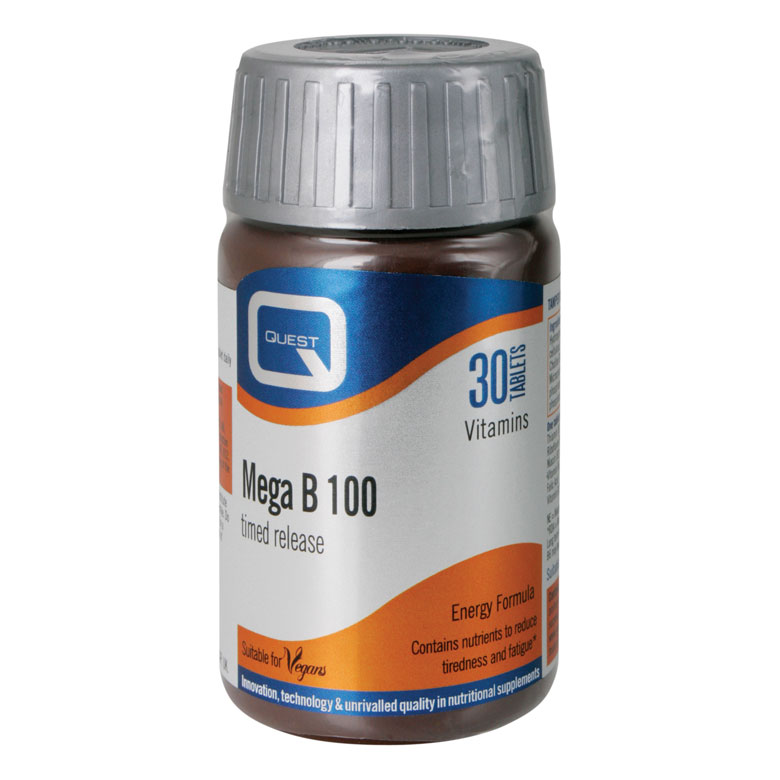 What's in this collection
Product information
Ingredients list
Di-Calcium Phosphate, Non GM Soya Lecithin, Hydroxypropylmethylcellulose, Pantothenic Acid, Vitamin B6 (Methyl Cellulose), Riboflavin, Niacin (as Niacinamide), Thiamin (Methyl Cellulose), Choline Bitartrate, Para-Aminobenzoic Acid, Inositol, Bulking agent: Microcrystalline Cellulose, Magnesium Stearate, Vitamin B12 (di-Calcium Phosphate), Biotin (di-Calcium Phosphate), Folic Acid (di-Calcium Phosphate), Glazing agent: Hydroxypropylmethylcellulose.

Allergens
For allergens, including cereals containing gluten, see ingredients highlighted in bold.
Soybeans
Storage details
Store in a cool, dry, place
Use instructions
Take one tablet daily with a meal. Food supplements should not be used as a substitute for a varied and balanced diet and healthy lifestyle. Do not exceed the stated intake unless instructed by a qualified health professional. Keep out of reach of children.
Processor
Essential Trading Co-operative
Using Product and Allergen information
Product information is provided here as part of our effort to give you the best possible online shopping experience. We take great care in preparing this information and checking it with the producer. However, the information provided here is not intended to be a substitute for reading the product's actual labelling once you receive it. Whilst we continually aim to update the information with the very latest data provided by producers, there may be some cases where it is subject to change. Equilibrium Markets is unable to accept liability for any incorrect information provided. Your statutory rights are not affected. If you require more product information than appears here, please contact the producer directly.