Back
V
£14.90
Excluding VAT
Synergy Barley Grass is 100% pure, whole leaf Barley Grass powder (Hordeum vulgare). It is grown outdoors in an environmentally clean area of Australia in deep, rich soils. Synergy Barley Grass contains no additives, fillers, colours or preservatives. Young, vigorously growing leaves are harvested at their nutritional peak and dried within 30 minutes of harvesting at body temperature to ensure maximum nutrient potency.
When harvested as a young grass (before the grain develops), Barley Grass has a nutritional profile more similar to a green leafy vegetable than a grain. As a natural multi-vitamin, Synergy Barley Grass provides all the vitamins, minerals, trace elements, enzymes, fibre and special nutrients like chlorophyll essential in our diet to meet our nutritional requirements.
For ingredients and allergens, see product information below.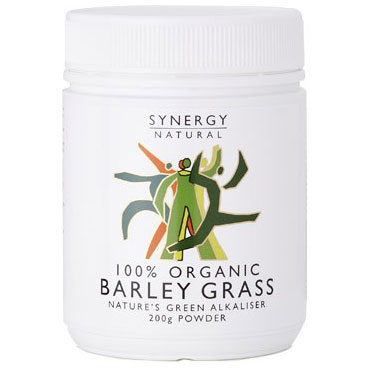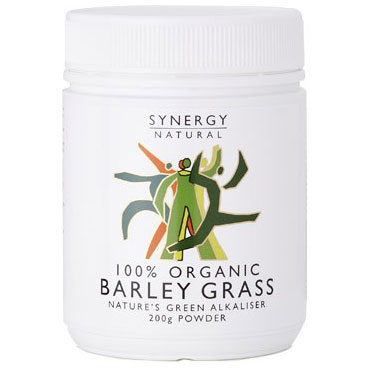 What's in this collection
Product information
Ingredients list
whole leaf organic barley grass powder (100%).
No additives, fillers, colours or preservatives. Synergy Barley Grass is grown outdoors without pesticides, herbicides or artificial fertilizers and in an environmentally clean area of Australia.
Use instructions
Consumption can vary with activity levels, state of health and age. As Synergy Barley Grass is a pure, natural whole food, there is no hard and fast rule on how much you should consume. Start with 1-2 heaped teaspoons (5-10 grams) per day, then adjust according to your needs. You may choose to take larger amounts for deeper cleansing and detoxification. Food sensitive people should introduce Barley Grass gradually. May be taken with food or stirred into water, juice or another favourite beverage.
Using Product and Allergen information
Product information is provided here as part of our effort to give you the best possible online shopping experience. We take great care in preparing this information and checking it with the producer. However, the information provided here is not intended to be a substitute for reading the product's actual labelling once you receive it. Whilst we continually aim to update the information with the very latest data provided by producers, there may be some cases where it is subject to change. Equilibrium Markets is unable to accept liability for any incorrect information provided. Your statutory rights are not affected. If you require more product information than appears here, please contact the producer directly.